Lincoln County Kansas Premium
N Hwy 181 : Sylvan Grove, KS 67481
Lincoln County, Kansas
Expired Listing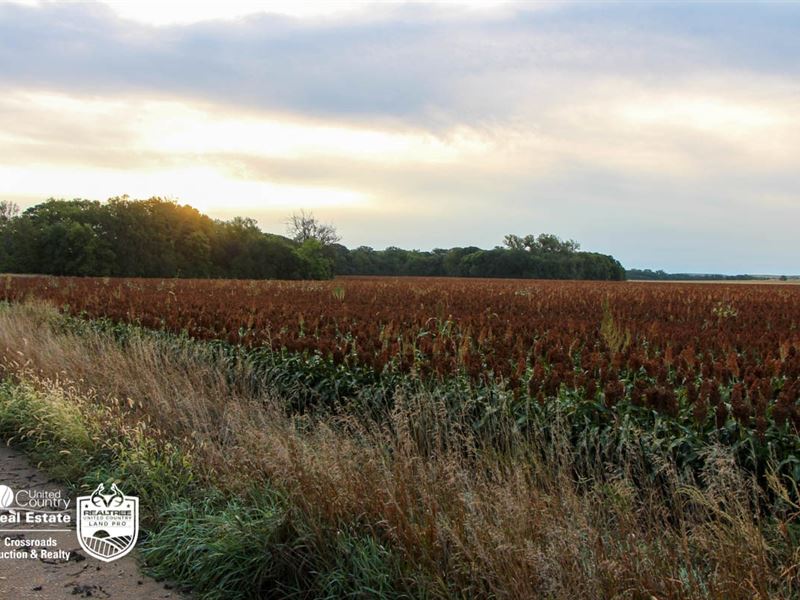 Land Description
Premium Farmland For Sale in Sylvan Grove, Lincoln County, Kansas

, Terry Zimmer, Michael Hansen & Brian Rose of United Country - Crossroads Auction & Realty of Salina, Kansas are offering for sale 155.46 Acres of Premium Farmland, Hunting Land & Timber in Northwest Lincoln County, Kansas. This land is located alongside Kansas Highway 181, 8-miles north of Sylvan Grove, Kansas. This land features 139.1 acres of farmland and 16.36 acres of pasture, timber & waterways for a total of 155 acres. All Seller owned Mineral Rights will be conveyed to the Buyer at closing. This land is owned by Ms. Deborah Johnson and is farmed by the tenant, Mr. Doug Sulsar. Possession of the farmland will be on August 1st, 2020 or after the summer 2020 Harvest whichever comes first. The Buyer will receive the landlord's 3/8-Share of the 2020 wheat crop.

Please see the following hyperlinks to download additional property information Property Information DropBox Folder

SELLER Ms. Deborah Johnson

LEGAL Address The Northwest Quarter of Section One 1, Township Eleven 11 South, Range Ten 10 West of the 6th P.M., Lincoln County, Kansas, less road right-of-ways

Fsa Bases / Yields Wheat 77.15 Acre Base - 42 Bu/AC PLC Yield

Grain Sorghum 27.69 Acre Base - 82 Bu/AC PLC Yield

Soybeans 25.16 Acre Base - 35 Bu/AC PLC Yield

TAXES 2018 Taxes were From the Kansas Highway 181 and Kansas Highway 18 intersection, drive 7-miles North until you see the Subject Property on the East Side of the road.