Quail Buffers & Cultivation
Ogallah, KS 67656
Graham County, Kansas
Expired Listing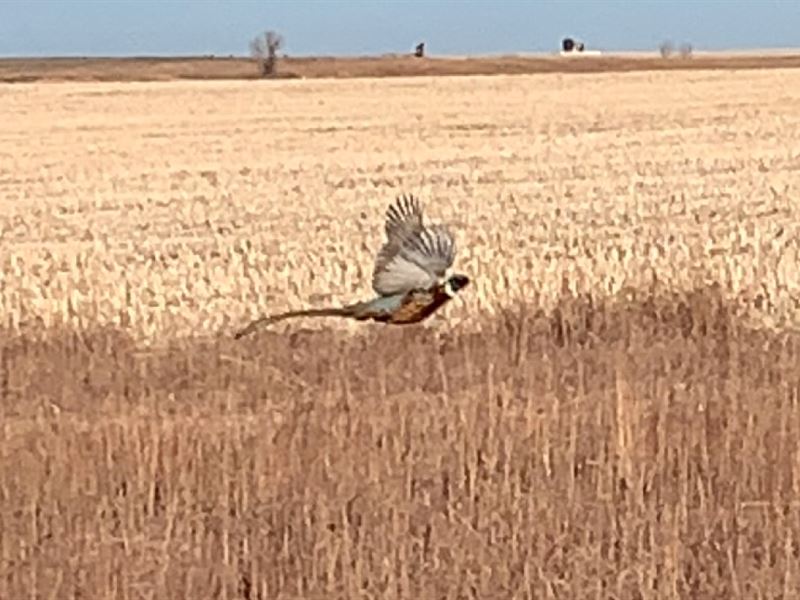 Land Description
Legal Description: South Half of Section Thirty-five (35), Township Ten (10) South, Range Twenty-two (22) West of the 6th P.M., Graham County, Kansas.

F.S.A. Information:

203.51 Acres of Cultivation, both planted to wheat and idle

58.86 Acres in C.R.P. (Quail Buffer) until 09-30-2021

45.46 Waterways & Unfenced Grass

General Info:

Nice ½ Section with a Quail buffer around perimeter and excellent upland bird hunting habitat on the interior. There is a small wet pit on the North side. 2019 wheat averaged 45 bu./Acre and 2019 Milo averaged 99 bu./Acre.

Taxes:

Seller to pay 2019 and prior taxes. Purchaser to pay 2020 and future taxes. 2019 taxes were Programs:

Purchaser to stay in compliance with all US Government programs the property is currently enrolled in. Government payments to follow current F.S.A. guidelines.

Base Acres PLC Yield

Wheat- 137 33 bu.

G. S.- 68.60 38 bu.

Minerals:

All Sellers interest to be conveyed to the Purchaser. To Sellers knowledge all minerals are intact.

Terms:

10% down day of sale, balance to be paid upon title approval and delivery of deed, said closing to be on or before February 5, 2020 or as soon as title requirements, if any, can be corrected. Sale is not contingent on purchaser obtaining financing. Financing, if necessary, needs to be approved prior to the auction. The seller agrees to convey said property by a good and sufficient Deed to the purchaser, subject to easements, restrictions, roads, right-of-ways, leases, reservations and county zoning regulations of record. Said deed shall be delivered to the purchaser at the time of settlement. Seller(s) to furnish title insurance showing merchantable title in Seller. This tract is being sold by U.S. Government survey. If the Purchaser feels an additional survey is needed, the cost shall be the responsibility of the Purchaser(S).

Possession:

After the 2020 wheat harvest with Purchaser receiving 1/3 of the harvested crop delivered to an elevator in Purchaser's name. Purchaser to be responsible for their 1/3 cost related to the growing wheat crop. Possession on the idle cultivation will be upon closing with Purchaser to pay for Spraying and chemical on the idle cultivation

Agency Disclosure:

Farmland Auction & Realty Co., Inc. is the agent of the seller. If the purchaser desires representation, legal counsel is advised. Announcements made day of sale shall take precedence over printed material.