Land Auction In Ohio
Piqua, OH 45356
Miami County, Ohio
Expired Listing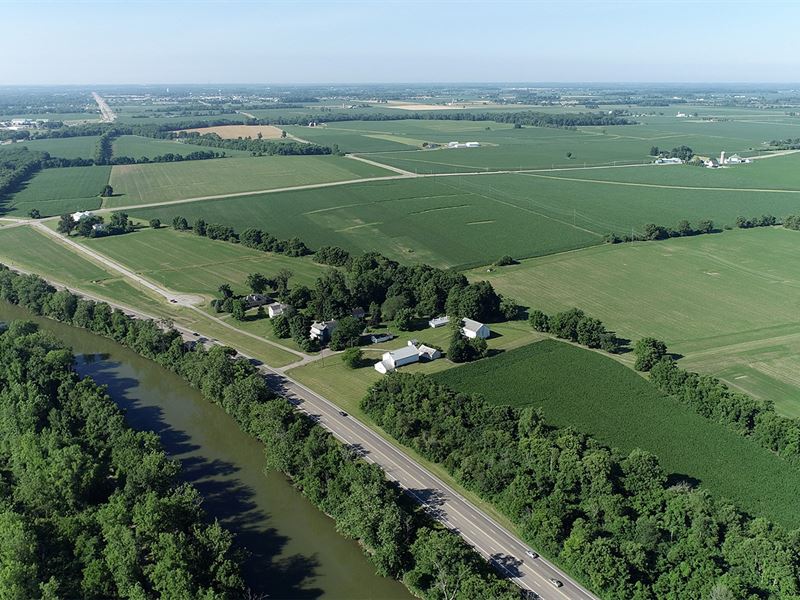 Land Description
• 485+/- Acres offered in 7 Tracts • Commercial Development or Transitional Possibilities • High Traffic Count with I-75 frontage and easy I-75 ON and OFF Access at Exit 78 • Abundant frontage along N. County Rd. 25A, Experiment Rd. and Farrington Rd. • Within 1/4 mile to Major Health Care Provider • Productive Soils with 291.83+/- FSA Tillable Acres • Multiple Homes or potential home sites • Historic Picturesque Farmstead with Impressive Home • Located within the Special Planning Area for the I-75/Cr 25-A corridor. • Examine all of the Possibilities outlined in the 2018 Master Plan. • Online Bidding Available You may bid online during the auction. You must be registered One Week in Advance of the Auction to bid online. For online bidding information, call Schrader Auction Company.

Open House/Inspection Dates

Meet Agent at Tract 2:

Tuesday, Aug. 25 from 10:00 am - Noon

Tuesday, Sept. 8 from 10:00 am - Noon

Tuesday, Sept. 15 from 10:00 am - Noon

Or by appointment only by contacting a Schrader Representative.

NOTE: Prospective bidders may enter upon the Property only at the advertised times on the scheduled inspection dates or by special appointment. No person shall enter upon the Property without first executing an approved form of Waiver and Release. Photo ID must be presented at this time.

Property Description

The physical location of the Statler Farms has been important for Generations. This 1913 photo shows the Wright Brothers flying over the farm and features 5 modes of transportation including railway, canal, road, air, & trolley car. Today, the farms location may be even more important with its proximity to the I-75 / CR 25A interchange and its future development.

Tract Descriptions

Tract 1: 31± ac with 15.8+/- FSA acres tillable. Frontage along Farrington Rd, N County Rd 25A and Old County Rd 25A. Great visibility along County Rd 25A. Includes a 3,912 sq. ft., 4 bedroom and 1.5 bath home built in the 1800S with barns including a bank barn built in the early 1900S with access along Farrington Rd and Old County Rd 25A. Examine the potential commercial opportunity with great visibility along N County Rd 25A. Property Address: 4744 N County Rd 25A Piqua, Ohio 45356.

Tract 2: 11± ac with historic farmstead including a beautiful 1920S farmhouse featuring 3,952 sq. ft., 4 bedroom and 3.5 bath. A second home sits on the property with Bungalow style architecture featuring 4 bedrooms and 2 full baths. Both homes have Central Air/Heat and alarm systems. Property includes 2 bank barns with hand-hewn beams, detached garage and many other outbuildings. Great homesite, rental investment or commercial opportunity. Direct access to N County Rd 25A and access on Old County Rd 25A. Property address: (Big House) 5030 N County Rd 25A and (Bungalow) 4938 N County Rd 25A, Piqua, Ohio 45356.

Tract 3: 23± ac nearly all tillable with great access along Farrington Rd. Prime location for potential development. Note: Farrington Rd features a dedicated turn-lane for heavy traffic and ease of access to I-75 and CR 25A.

Tract 4: 176± ac with 140+/- FSA tillable acres. Frontage and access from Farrington Rd. This is a mainly level tract that includes quality soils and 30+/- acres of woodland. Additional frontage on N County Rd 25A. Large tract for row crop farming or potential commercial development. (Note: Standing timber has been sold on this Tract and harvest may occur after closing. Contact agent for information.)

Tract 5: 29± ac nearly all tillable. Great road frontage along both Farrington Rd and Experiment Farm Rd. Productive field for row crops or consider this as an estate size building site or transitional commercial parcel.

Tract 6: 33± ac nearly all tillable. Frontage along Farrington Rd. Great productive field for row crops or potential building location.

Tract 7: 182± ac with 59+/- acres of tillable land. Access along Farrington Rd with great exposure along Interstate 75 and N County Rd 25A. Productive row crop opportunity with mature trees and excellent commercial development potential.

This tract contains 51+/- acres that are deeded yet non-taxed and located in the highway right-of-way (shown in the shaded area).

Contact Auction Company for Detailed Information Book with Additional Due-Diligence Materials on the Property. Full Property Disclosures including Residential and Lead Base Paint Disclosures are available online.