Sold, Absolute Auction Saturday
199 Narvel Road : Albany, KY 42602
Clinton County, Kentucky
Expired Listing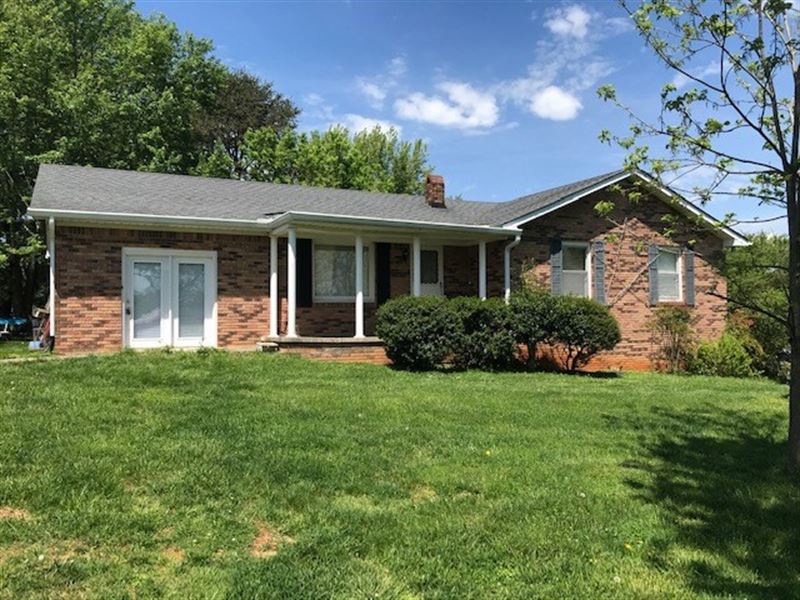 Land Description
Selling Absolute for the Arnold and Lucille Clark Estate

Saturday June 1, 2019 at 10 00 a.m. Cst

199 Narval Road, Albany, Kentucky 42602

Brick home on 37.41 acres with pond, fruit trees, fully fenced, 2 automatic cattle waters, Large barn and two out buildings. 90 tillable land. The home is a 3 bedroom, 1 1/2 bath, walk-out basement with kitchen sink. Conveniently located between Albany and Monticello, Kentucky on Ky Hwy 2546 just off Highway 90.Check out the catalog of auction inventory and videos on our website. comments This property offers beautiful mountain views and lays very well. The farm has been leased for row crop farming in the past years but it is fully fenced, automatic cattle waters and pond livestock ready. There is a lot of personal property so bring a friend and a trailer and plan to stay most of the day. No need to pack a lunch as there will be concessions on site. There are lots of tools and equipment for the men and a house full of stuff for the women so bring the whole family for an exciting, fast pace entertaining Auction. Rain or shine hope to see your there.

PERSONAL Property Antique Desk With Chair, Antique Table, Homemade Quilts, Antique radio 45 Admiral, Antique Spit Jug, Several Microwaves, Large Dresser With 2 Mirrors, Antique oil lamp, red brass ducks, Several Twin Beds, 2 Full Size Beds Matching Bedroom Suite, Executron Type Writer, Antique Dresser with Mirror, Chest Drawers and Dresser, Cast Iron Kettle, Small Farm Equipment, Old Cash Register Antique, Toaster,Wood Stove Ashley Jar Canisters Set, Old Sifter Cabinet, Antique Dishes Various, Antique Washing Machine, Antique Butter Churn, Sewing Machine, Lamps, Candle W/Platter, Roller Cabinet, Spice Rack, Dishes, Wood Stove, Misc Decorations, Refrigerator, Old Wash Bucket, Silver Platter, Desk Light, Oven Hutch, Table with 4 Chairs, AirCompressor, Glass Ware, Pie Dish, Mirror, Coke Cola Memorabilia, Candles, Plastic Wine Glasses, Pictures, Cast Iron Kettle, Wall Mirror, Maytag Washer, Gibson Dryer, Old Roller dunham Push Mowers, Riding Lawn Mower Troy Built Power Sprayer, Old Time Clock, Camera 35mm, Gun Rack, China Dishes, Various Clocks, Wooden Basket Roller, Wooden Cabinet, Misc Figurines, Spice Rack, End Tables, Glass Ducks, Basket, Large quantity of Christmas Decor, Large Ceramic Owl, Large Ceramic Cat, Stand Up Heaters, 3 Misc Dishes, Candles Window Shades, Glass Table, Chair Lamps, Cedar Bird Box, Magazine Holder, Vase W/Flowers, Speakers, Misc Wall Decor, Coffee Makers, Canvas Pictures, Wood Table, Misc Lamp Shades, Large Sea Shelf, Candle Holders, Wicker Basket, Carpet Rug, Globes, Glass Vases, Various Baskets, Bibles, Candle Holder, Various Stuffed Animals, Vinyl Records Old, Computer Monitor, TV, Light Up make up Mirror, Antique Pink Dish, Green Jug, Glasses with Basket, Custom Jewelery Box, Misc Shelving, Rug,Glass Table, Night Stand, Various Bedding, Various Curtains, Cigar Boxes, Vases, Misc Clothing, Misc Shoes, Misc Bags, Deer Print Picture, Walker, Potty Chair, Purses, Suit Cases, Brief Case, Wood Basket, Bath Chair, Window Blinds, Small Plastic tote of Art and Craft Supplies, Leather Cases, Shoe Holder, Blindfolds, Camera, Watch, Mag Flashlight, File Basket, Wood Shelf Candles, Bowls, Jars, King/Queen Bed, Mattress Pad, Wall decor, Stool, Jewlery, Artificial Flowers, Glass Ware, End Tables, Blue glass Picture and Bowl, Canister Set, Wall Decor Paintings, Wood Frame and Headboard, CB Radio, Oak Chair, Misc Pictures/Frames, 8 trac Tapes, Cordless Phone Sets, Marble Table, Several Mason Jars, Buckets, Cooler.

Tiki Lights, OutsideLights, Kettle, Chicken Wire, Chains, Weed Eaters, Irons.

Lunch boxes, Fan, Funnels, Doors, Outside Chairs, Tarps, Window old, Heater, Grill, Old Truck, Pot Belly Little Stove Diana 880 Picnic Table, Umbrella, Old Bed Frame 2, Electric Fence posts, Sewing Machine, Tires, 5 Gallon Buckets, Table, Rake for Tractor, Tobacco Sticks, Sidewalk Guard, Old Wagon, Old Screen Doors.

Aluminum Outside Storm Door, School Desks, Bar Chair, Milk Cans, Several Rocking Chairs Wooden Metal Shelf, Old Wheel Chair, Water Pump, Tractor Wheel, Single Plow, Metal Gates, Old Chairs, Bench Set,Over Sized Wooden Basket, TiresLight Fixtures old Wooden Coat Rack,ungi Cords, Roll of Plastic, Screen Windows, Art Easel, Plastic Bob Sled, Red Table, Corn Shucher, Big Shovel Head, Pressure Tank, Aluminum Ladder, Sprayers, Big Metal Wheel, Wedge, Corn Scoop, Spade, Shelf, Allen Wrenches, Battery Charger, Old Grinder, Craftsman Grinder, Small Vice, Metal Tool Box, 1/4 Socket Sets, 3/8 Sockets and Wratchet, Wrench Tool Box Plastic Wheel Dolly old Wagon, Chipper/Shredder, Flat Bottom Shovels, Small Ladders, Corn Scoops, Car Ramps, Bumper Jack, Several Clevis, Log Chains.