Warren County Farm, Land
3874 Hydro Pondsville Road : Smiths Grove, KY 42171
Warren County, Kentucky
Expired Listing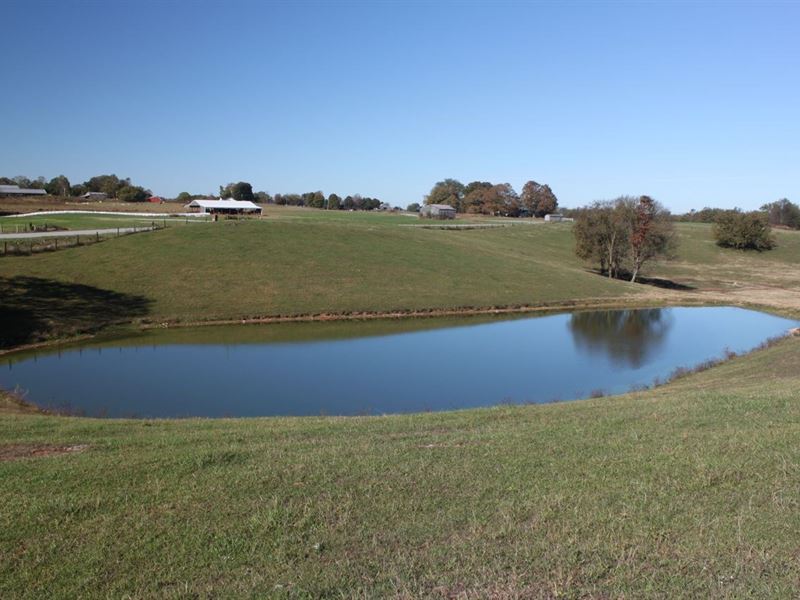 Land Description
Retirement Auction Farm & Equipment 3874 Hydro Pondsville Road, Smiths Grove Ky. 42171

58.11 Acre Farm being offered in 11 tracts, in Combination and Its Entirety on Saturday Nov. 23rd 10 00 A.M.

Mr. Yokley has proudly tended this farm for 30+ years and has decided to move to town to be closer to his family. You can definitely see how good of a steward Mr. Yokley has been when you take a drive around his property. From his residence to the barn, fences and equipment he has worked hard to maintain it all.

58.11 Acres with good boundary and cross-fencing. Excellent Cattle Farm that is ready to go.

Tract 1 1 Acre with a 1,450 sq. ft. country home with 3 bedrooms, 2 baths, large living room with a gas log fireplace and a large eat in kitchen. Exterior features include a front porch, rear decks and mature trees.

Tract 2 10.06 Acres with a 70 X 48 Livestock Barn, Pond and an Excellent Building Site.

Tract 3 1.00 Acre Lot fronting Hydro Pondsville Rd.

Tract 4 5.00 Acres fronting Shobe Rd.

Tract 5 5.07 Acres fronting Shobe Rd. Would make a beautiful home site. Open and in Grass

Tract 6 16.86 Acres fronting Hayes Pondsville Rd. & Shobe Rd. Open and beautiful views.

Tract 7 5.00 Acres fronting Hayes Pondsville & Hydro Pondsville Roads.

Tract 8 1.00 Acre fronting Hydro Pondsville Rd. Clear and in Grass

Tract 9 5.32 Acres fronting Hydro Pondsville Rd. Clear and in Grass

Tract 10 6.77 Acres fronting Hyrdo Pondsville Rd. Open with some wooded area.

Tract 11 1.00 Acre fronting Hyrdo Pondsville. Open and in Grass

Personal Property

Fiat 65-46 Special Hesston Tractor w/Canopy, 2,745 hours showing, SN DGM 5243 MA OM 1 Owner Shaver 8 post driver SN 50032 John Deere Hay Rake w ubber teeth, Bush Hog DM 70 Disc Mower 8' SN 12-05943 2 Bottom 12' Plow 1 row Cultivator Rear Hay Spear 2 Hay Rings 6' Pull Type Disc 10' J.D Disc 16' Flat Wagon w/ Running Gear 10' Bush Hog Brand Rotary Cutter Model 3108, SN 12 00035 Sweeden Sickle Mower 7' 3Pt Hitch Cultivator 8' Culti-packer Homemade Cattle Chute w/Priefert Headgate 3 pt. Hitch Seed Sower Fencing Supplies 16' Gate Cattle Creep Feeder 2x8 Yellow Poplar Boards Treated 2x Lumber 2 Cattle Watering Troughs 3Pt. Hitch Sprayer 300 gal. upright diesel tank Miscellaneous Other Canning Jars

Terms Terms & Conditions Real Estate Terms 10 down day of sale balance due no later than Dec. 23rd, 2019. Possession of land and will be given at closing. Possession of the home will be retained by seller for up to 60 days after closing. 2019 real estate taxes to be paid by the seller. A 10 buyers premium will apply. Real Estate is selling As-Is and subject to all easements and restrictions, recorded and unrecorded. The home was built prior to 1978 and an opportunity to test for lead base paint is offered prior to sale day a waiver is required to be signed if you are the winning bidder. We encourage your personal inspections and due diligence, prior to bidding. There are no pre-sale or post-sale contingencies, including financing, appraisals or inspections. A General Warranty Deed will convey property by current legal description.

Personal Property Terms A 10 buyer's premium will apply. Cash or good check day of sale. Announcements made sale day take precedence over advertisements.