Cropland, Grassland, Hunting Land
89813 Johnston Rd : Medford, OK 73759
Grant County, Oklahoma
Expired Listing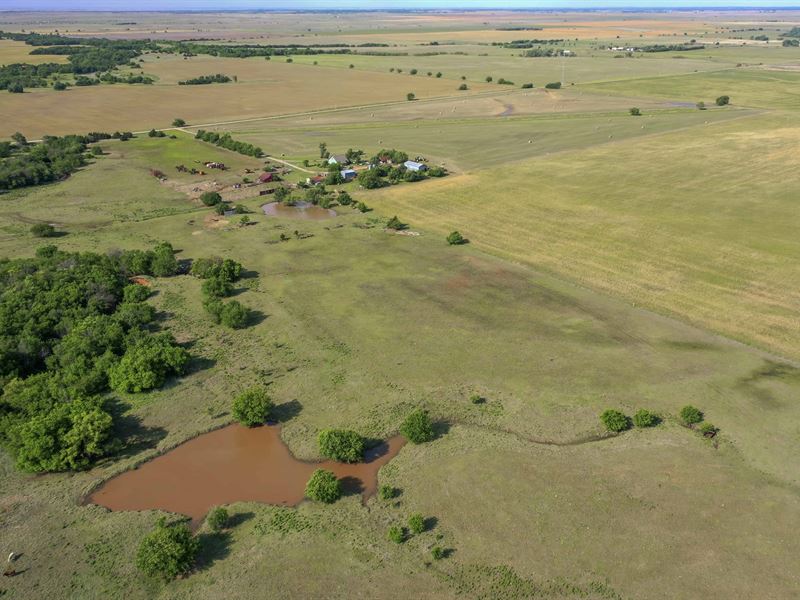 Land Description
Forrest Leon Rapp and Beverly J. Rapp Trust - Part 2.

Land, Home & Outbuildings, Farm Equipment & More.

Live On-Site Auction with Online Bidding Available (Signal Permitting)

Saturday, September 17th at 10 am

Land, Home & 155 Acres Southeast of Wakita, West of Medford

Followed by Complete Line of Farm Equipment, Overhead Bins, Tools, Scrap Iron & More.

Home & Outbuildings, Tillable Cropland, Grass pasture with Creek & Hunting Potential

Property Address: 89813 Johnston RD, Medford, Oklahoma 73759

Directions to the Auction: From Medford travel approx. 5 miles West of Medford on Highway 11 to Cr910 (Clyde Rd), then Travel North 3 miles to Johnston RD, then travel 1 1/2 miles West, or from Wakita, Travel approx. 2 miles South on Highway 11A to Johnston RD, then travel approx. 4 1/2 miles East to the auction site, Please Watch for Signs.

Preview: Sunday September 11th from 4 pm to 5 pm, and Wednesday September 14th from 5 pm to 6 pm. Or by appointment, call/text Josh.

Order of the Auction: Land will sell first at 10 am, followed by Tractors, Machinery, Shop Items & More, please be on time.

Restrooms & Concessions Available On-Site All Day - Come spend the day with us.

Land, Home & Outbuildings Overview:

Legal: Se/4 of Section 33, Township 28 North, Range 6 Wim, Grant County Oklahoma, State of Oklahoma, Less Former Railroad Right of Way, consisting of approx. 5.6 acres.

Tract Overview: Great diverse quarter consisting primarily of approx. 124 acres of tillable cropland, approx. 30 acres of established grassland / timber, with live creek and small pond. The homestead is located in approx. the center of the south half of the quarter and is positioned a nice distance from the roadway. The homesite area consisting of the older 1 1/2 story home and outbuildings consists of approx. 3.67 acres. The traditional frame home offers approx. 1,311 square feet per Grant County Assessor records, and has a newer composite shingle roof, window a/c, and gas wall heat. The main floor consists of separate living / dining space, kitchen & utility room. A master bedroom with full bathroom is located on the main floor, and three bedrooms, and a full bath is located on the second floor. The home is serviced with rural water, electric and propane. It is a traditional older farmhouse, but is livable and could make a great hunting cabin, or starter home for somebody while they build, etc. The outbuildings consist of a metal shop building, open sided hay barn, and older livestock barn.

FSA Farm Information: Per the Grant County Farm Service Agency, the farm consists of approx. 124 cropland acres, with approx. 29.67 of native grassland / timber / creek. The Wheat Base Acres are 114.6 acres, with a PLC Yield of 36 Bu.

Soil Information: Kirkland silt loam, 0 to 1 percent slopes Class 2s, Kirkland silt loam, 1 to 3 percent slopes Class 2s, Mclain silt loam, 0 to 1 percent slopes Class 1, Mclain-Drummond complex, 0 to 1 percent slopes Class 1, Dale silt loam, 3 to 8 percent slopes Class 4e, Port silt loam, 0 to 1 percent slopes Class 2w.

2021 Taxes: 551.00 (2022 Taxes Prorated to Closing)

Real Estate Terms: 10% earnest money deposited into escrow upon signing of the purchase contract. Real Estate sells subject to the confirmation of the Seller(s) at the time of the auction. Property sells as-is in present condition, please complete due diligence prior to bidding. Descriptions, information gathered subject to errors and omissions. Bidding is Not contingent upon financing. Seller(s) to provide merchantable title at closing. Closing funding and possession to occur approx. 40 days from the date of the auction, unless title curative is needed by the Seller.