Hancock County, Ohio Land Auction
16570 Tr 56 : Bluffton, OH 45817
Hancock County, Ohio
Expired Listing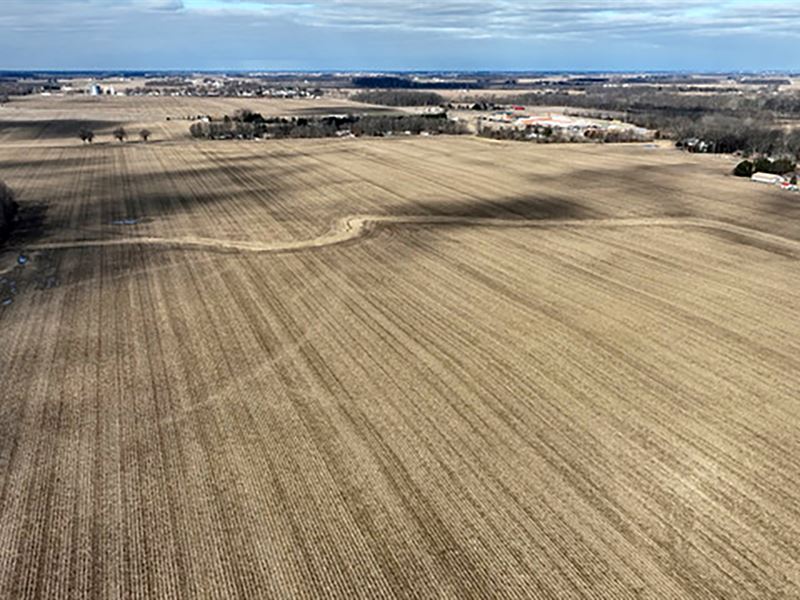 Land Description
• 689.18 FSA Cropland Acres • High Quality Soils • Nearly all contiguous • Pattern tiled-maps available • Outstanding recent yields - reports available • Great visibility along both sides of I-75 • Tracts ranging from 3+/- acres to 165+/- acres in size • Potential building sites.

Open House/Inspection Dates

Tuesday, May 30th from 4-6Pm

Thursday, June 8th from 4-6Pm

Tuesday, June 20th from 4-6Pm

Meet a Schrader Representative at Tract 6.

Property Location

Near 16570 TR 56, Bluffton, OH 45817. From I-75, take exit 145 and head south on 235 for a few hundred feet. Then, turn on TR 34 for a mile. Turn north onto TR 56 and continue for 2 miles. Once you pass over I-75 the farm will be on both sides of the road.

Auction Location

Hancock County Fairgrounds Event Center (Old Mill Stream Center):

1017 E Sandusky St, Findlay, OH 45840

Property Description

The Karl and Teresa Rieman farm is a unique opportunity to acquire a significant amount of exceptional tillable acres in southwest Hancock County, OH. The farm lies in 678.5 +/- contiguous acres with an additional 34 +/- acres located a short distance away. Of the 712.5 +/- acres being offered, 689.18 acres are tillable per Fsa. The soils are comprised of pewamo silty clay loam and blount silt loam. A majority of the fields are patterned tiled. Tile maps are provided on the website and in information books. Additionally, the farm has been under no-till conservation practices for the past 25 years. The combination of excellent management, quality soils, and improvements have allowed for solid recent yields with corn averaging as high as 244 bu. and beans yields averaging as high as 70 bu. Yield history for the last 3 years can be seen on the website. The farm is located a short distance from Findlay and has great frontage and visibility from both sides of I-75. Combine this with the fact that portions of the farm is located just south of the Cory-Rawson High School creates development potential down the road. Whether you are an operator that is looking to acquire additional acreage or someone looking to invest in an outstanding farm, don't miss this opportunity to bid your prices on high quality land in North Central Ohio that comes from an outstanding family history.

Tract Descriptions

Tract 1: 38.8± ac of nearly 100% productive tillable farmland. The close proximity to Cory-Rawson High School and rail frontage creates for some development potential. See tile map 10 for pattern tile location.

Tract 2: 49.6± ac containing almost all productive farmland. This property contains great access points with road frontage on 3 sides of the farm. See tile map 10 for pattern tile location.

Tract 3: 165.1± ac of high-quality farmland. Consider combining with Tract 4 for over 200+/- acres and to own both sides of the ditch. The ditch provides a great drainage outlet that has been very well maintained. See tile map 6 and 7A & B for pattern tile location.

Tract 4: 56.5± ac containing tremendous soils. This property also fronts the ditch providing for a quality drainage outlet. See tile map 5 for pattern tile location.

Tract 5: 56.4± ac of majority tillable farmland. Check out the extensive visibility and frontage along I-75. See tile map 11 and 12 for pattern tile locations.

Tract 6: 5.0± ac involving a 36ft x 58ft barn that would make for a great storage shed. Consider the possibilities of adding additional barns or a home to this property.

Tract 7: 39.3± ac of diversified land containing majority tillable farmland as well as approx. 12+/- acres of woods. This property offers a beautiful setting for a potential home and numerous deer have been spotted in the woods throughout the spring and recent years. Per the owner, tile does exist but no maps are on hand.

Tract 8: 129.6± ac of majority productive land. This tract also has great visibility from I-75 with access off Tr56 and Cr26. Per the owner, tile does exist but no maps are on hand. Consider combining with Tract 5 and Tract 7 for one large contiguous field and some recreational woods all in one.

Tract 9: 3.1± ac that would make a great add on for a neighbor looking for some additional space. Frontage along a creek creates for a scenic setting.. Property is located in a floodplain so building potential is limited.

Tract 10: 25.4± ac of diversified land uses entailing mature timber, frontage on the creek, and 18.58 FSA cropland acres. The property also contains visibility along I-75.

Tract 11: 5.1± ac involving woods creating for gorgeous scenery and an excellent potential building location. There is an existing billboard lease for 12: 52.7± ac with good visibility along the south side of I-75 and high-quality soils. Consider combining with Tract 13 for 125.5+/- acres of productive farmland. See tile map 1 and 4 for pattern tile location.

Tract 13: 73.1± ac of tillable farmland accessed via an easement along an existing private road identified in the property map. See tile map 2 for pattern tile location.

Tract 14: 34.0± ac of which FSA considers 32.15 tillable. See tile map 13 for pattern tile location.