Cheap Land, Western Colorado
East Battlement Mesa Parkway : Battlement Mesa, CO 81636
Garfield County, Colorado
Expired Listing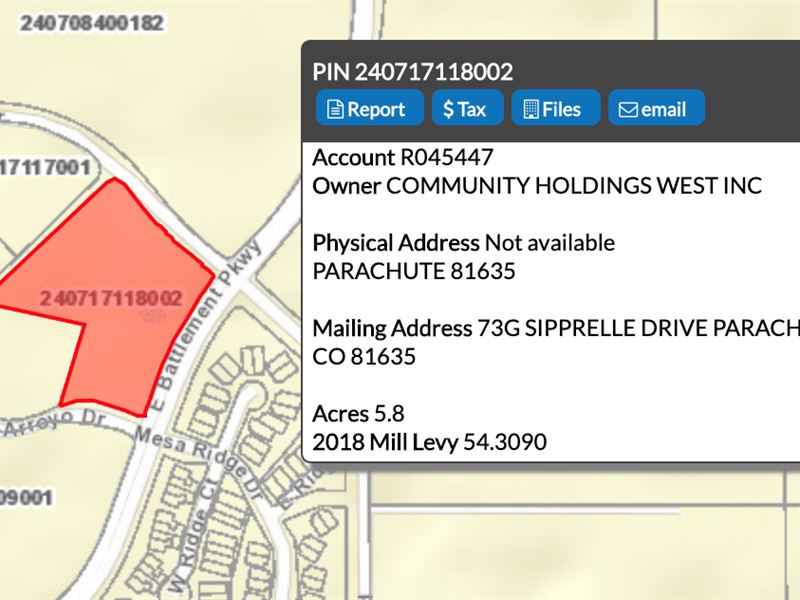 Land Description
Cheap land for sale in Colorado--real estate auction in Battlement Mesa

Parcel 5, Block 4 is 5.85 acres and is accessed off Sipprelle Drive in Battlement Mesa. Located very close to the Town Center, Recreation Center and the Middle School, this parcel is very close to all major utilities found either in Sipprelle Drive or Battlement Mesa Parkway. In 2008, the Parcel was re-zoned to Medium Density Residential, which allows a maximum gross density of 12 dwelling units per acre. This allows Block 4 to have a maximum density 67 units. Good drawings of this plan are available. Since this block has a recorded plat and established legal boundaries, it will not be subject to the subdivision application process.

Colorado real estate auction Battlement Mesa

This is one of over 35 properties to be offered by the developers of Battlement Mesa. The properties that do not sell in a conventional listing cycle will be offered at auction on June 27, 2020, at the Battlement Mesa Rec Center. Please see our website, for more details and information.