Ouray Colorado, Commercial Auction
920 Main St Ouray : Ouray, CO 81427
Ouray County, Colorado
Expired Listing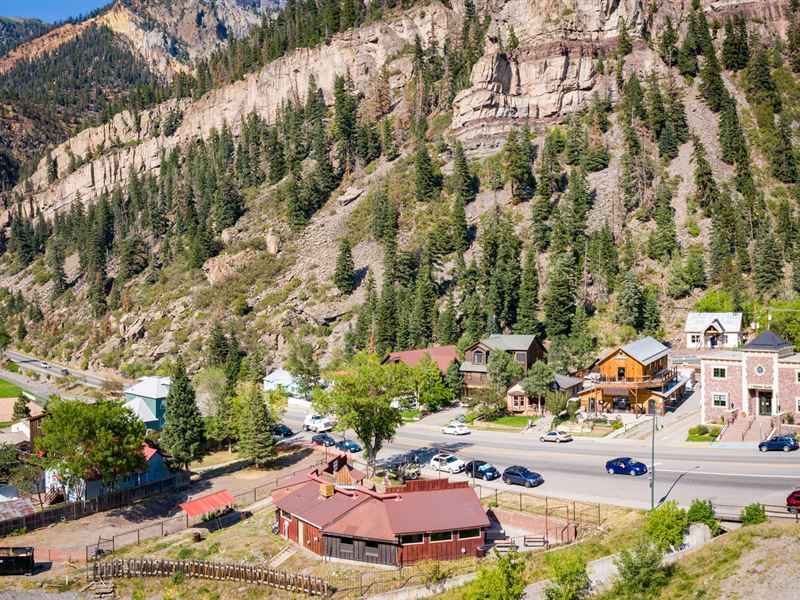 Land Description
Absolute Auction.

Will Sell Absolutely Regardless of Price.

This is your opportunity to Bid, Buy, and OWN This Prime Commercial Property in Majestic Ouray Colorado.

Live On-Site Auction event on Thursday, September 17 at 1 07 PM MT Online Bidding Available

If you are looking for a prime location with unbeatable Main St. frontage to make your business skyrocket, this 1,600 sq. ft. property has 141 feet of Main Street frontage more frontage than most parcels in town. It is divided into three separate units that could be exclusively used for one business, or individually leased out for extra income, along with a separate office space, and exterior bathroom access. This place is a perfect stop for hungry tourists after a long day of driving. If you're looking to get your business up and running this is the place to be.

This property is an extremely lucky opportunity sitting right in the heart of commerce on Main street in Ouray, Colorado. Ouray is an historic mining town known as the Switzerland of America. A blissful mountain getaway with ample open space, historic sites, scenic value, and recreation just minutes away. If you are the outgoing type or have customers who love a good mountain adventure, there are abundant activities in the local area from hiking to off-road trails, camping, and the world-famous Ouray Hot Springs is just steps away. And is on the way to Telluride Ski Resort. But the magic and charm of Ouray really happens during the colder months, when the town becomes a snowy winter paradise.

The owners have recently modernized the building This property now Boasts new windows and doors, three new gas heaters, new plumbing, a new lawn irrigation system, new countertops, two new bathrooms and a mop room, a Rinnai tankless water heater, and an additional 40-gallon water heater in the kitchen. This property also features a charming outdoor space with a new concrete patio on the sides and front of buildings, a wishing well, permanent picnic tables, new concrete steps, and a new retaining wall. This property has Upgraded Accessibility with a new wheelchair ramp and is fully fenced with 2 gates in front. Large open patios with incredible mountain views all around.

Details

Auction Type

Absolute Auction

Broker Co-Op 2.5 Auction Property Address 920 Main St, Ouray, CO 81427

Auction Date and Time

Thursday, September 17 1 07 PM Mt

Auction Previews

Saturday, August 29 12 PM - 2 Pm

Wednesday, September 2 10 AM - 2 Pm

Saturday, September 5 12 PM - 2 Pm

Wednesday, September 9 10 AM - 2 Pm

Saturday, September 12 12 PM - 2 Pm

Bidding

Buyers Premium - 10 Detailed bidders Information is available in the Property Information Packet. All bidders are encouraged to read these materials before bidding on this property.

Property Highlights

Business space best used as a restaurant etail

Lot size - 6,950 sq ft.

Building - 1,600 sq ft

Number of units - 3 with an additional office

Main St frontage - 141 feet

Taxes - 2020 gas heaters, 1 swamp cooler, and ceiling fans

Outdoor dining space, with permanent tables and a wishing well

New windows, doors, and gas heaters

2 restrooms with external access

Wheelchair accessibility ramp

Commercial kitchen fixtures

Rinnai tankless water heater

Additional 40-gallon water tank

Permitted Uses For The Property Any use allowed in R-1 residential or R-2 high-density residential zone districts

Retail shops

Professional and business offices

Financial institutions

Restaurants, bars, taverns, or other establishments serving food and/or alcoholic beverages.

Theaters

Government buildings and facilities

Private and fraternal clubs

Crafting of art, collectibles, handicrafts, etc. for sale on the premises

provided that no more than 50 of the premises is utilized for this purpose. Outdoor displays of merchandise in compliance with the requirements of

Chapter 13 of the Municipal Code.

All property measurements are approximate. All information on this website was delivered from sources believed to be correct, but not guaranteed. It is the buyer's responsibility to verify all property specifications prior to the auction date. Prestige Real Estate Auction, LLC is an agent of the seller. Announcements take precedence over printed materials. Not available to residents of any state in which this real estate is not in compliance with the real estate laws or other laws of that state.

For Complete Terms & Conditions, go to the Property Information Packet on this website.

Copyright 2006-2020 United Country Real Estate- , Llc. Denver, CO All Rights Reserved.