Estate of Bob Holmberg, Auction
859 Poor House Rd : Rustburg, VA 24588
Campbell County, Virginia
Expired Listing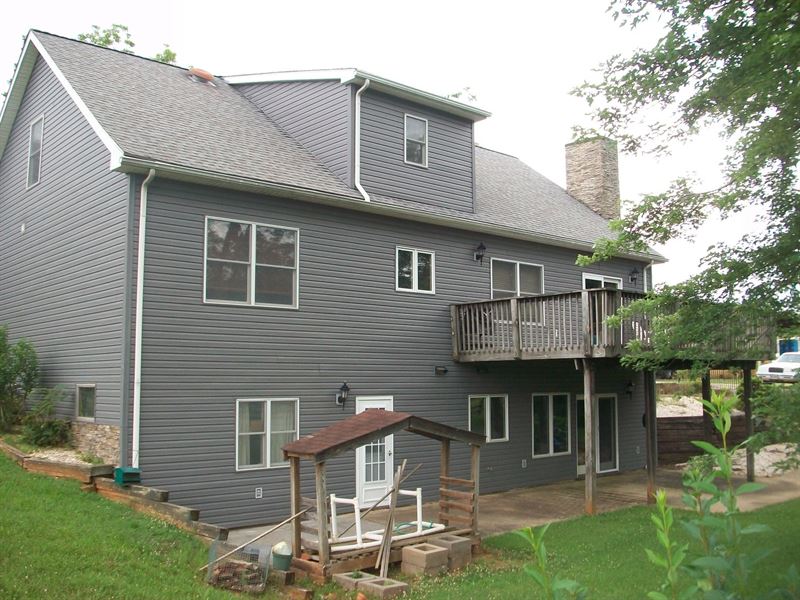 Land Description
Date: Friday, Septemeber 3, at 12:00Pm

Site: 859 Poor House Rd Rustburg, VA 24588

Preview Dates: Wednesday, August 11 from 12 - 2Pm; Sunday, August 15 from 12 - 2Pm, and Saturday, August 21 from 10Am - 12Pm. Other times by appointment.

SALES Managers: Pete Ramsey & Bill Bryant

Property Information: (Note: All dimensions are approximate.)

The Bob Holmberg Estate can now be yours. This Absolute auction will sell 147± acres of land, a three-story home, seven horse stalls, a workshop, an office, an open-sided shed and a livestock shelter are just a few of the incredible features included in this one-of-a-kind deal.

The property offers stunning views from many locations (especially a view of the Peaks of Otter), is 10 minutes from Lynchburg, 15 minutes to Liberty University, and 20 minutes to Lynchburg General Hospital.

The property features ~50 acres pasture/crop land, ~20 acres that are improvements and streams, and the balance acreage is timberland. Open land is fenced with either 4 strand electric or woven wire. The property also has 2 nice streams running through

Buildings include:

House

Main Floor- Great room with gas fireplace and access to a deck overlooking the pastures behind the house. The kitchen comes with a refrigerator, dishwasher, and stove/oven. The countertops are granite and there is plenty of storage in the oak cabinets. There is a formal living room plus two bedrooms and two full baths. The laundry room is also on this level. This floor can be accessed from the front door or through an attached garage that is approximately 624'.

Downstairs - There is a great room on this level with access to a patio. The great room does have a gas fireplace. There is also a full kitchen with a refrigerator, dishwasher, and stove/oven. In addition, there are three bedrooms and 1 full bath and one half bath. The half bath is located in the utility room. The utility room also has a wood stove. This level could make a great apartment or in-law suite as it has its own entrance from the rear of the house.

Upper Floor-This unfinished level has been roughed in for a full bath as well as one bedroom plus a large living area. In addition, there are several large storage areas.

The entire house is serviced by a well and septic system. There are two heat pumps to heat and cool the house. The total finished size of the house is approximately 3,088'.

Open Sided Shed

This shed is 40' x 60' x 13' eave height with a gravel floor. There is no electricity or water for this shed.

Horse Barn

36' x 50' seven stall horse barn plus a feed/tack room. Each stall is approximately 12' x 11' with a generously wide aisle between the two banks of stalls. There is water and electricity in the barn.

Storage/Office

This building is 20' x 16' and has a window air conditioner unit as well as a space heater. There is water and electricity in the building as well as a hot water heater. This building could be used for a climate controlled tack room or an office or any number of other purposes.

Maintenance Building

The shop is 40' x 40' with about a 13' eave height. There are two roll up doors that are 16'W x 12'H. The building has a concrete floor, is insulated, and heated via a propane space heater. There is also water and 200 amps of electrical service to the building. Attached to the shop is an open shed that is ideal for the storage of farm equipment. This shed is 40'W x 20'D with an eave height of about 16'. The shed has a gravel floor and does have electrical service and water.

Shop

The shop is 24' x 32'. The upper level of the shop has 10' ceilings and does have an electric heater. There is also 240V service to this building. There is no water at the building. The lower level is also 24' x 32' with a gravel floor. It is accessed by two open bay doors that are 12'W x 8'H. The entrance to the lower level is protected by a sturdy overhang that is 30'W x 13'D.

Livestock Shelter

This three-sided shelter for livestock is located at the edge of one of the pastures. It measures 12' x 24'.

Roadside Shed

This shed can be used for multiple purposes. It is 48' x 30' x 12' eaves. It has access from multiple sides. It does have a dirt floor and there is electricity at this building.

Terms and Conditions

10% BP, 10% deposit due on sale day with the balance due no later than October 5, 2021. Time is of the essence.

Old Stall/Feed Storage

This building is approximately 30' x 16' with a dirt floor. There is no electricity in this building.