Cathouse Recreation
255 County Rd : Utica, KS 67839
Lane County, Kansas
Expired Listing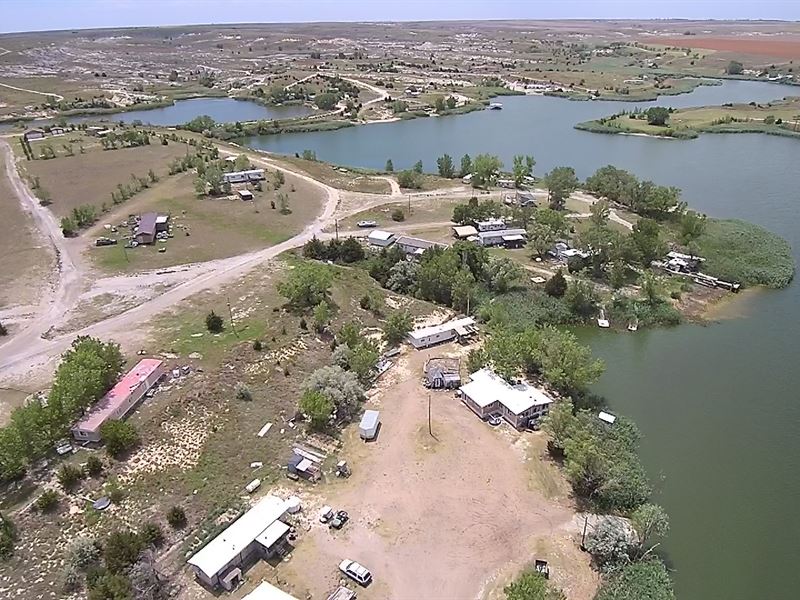 Land Description
This unique parcel is in a class of its own. Located in rural western Kansas, this oasis has a 65 acre lake with depths of 40 feet. Cathouse Lake is located in valleys that fill this lake with natural runoff. Cathouse Lake was built in 1986 and has never been dry since. This has created incredible fishing, waterfowl, and a complete natural environment that a lake will provide.

Land

The land around Cathouse Lake is filled with natural canyons and beautiful rugged terrain. On the edges and bottoms of these canyons lies native grass that is home to the wildlife such as pheasant, deer, quail, turkey, coyote, rabbits and other Kansas species. This terrain provides more than adequate run off and nutrients to keep this lake healthy and full. All the acreage on this property is contiguous, so one never has to leave or cross any boundaries to enjoy this jewel in western Kansas.

Improvements

Cathouse Lake has been thoughtfully designed with structures to compliment the incredible potential this property provides. A centrally located marina bait shop offers everything from lunch, bait, tackle, ice, supplies, and will even post the pictures of the fish you catch. Three rental cabins are located next to the marina are equipped with air conditioning, showers and beds for anyone looking for a place to stay. Along with rental cabins is a centrally located bath house for daily use.

A three bay shop with living quarters is positioned below the damn for storage of equipment used to maintain the property and take care of the road system along with golf course located on site. All buildings are fitted with equipment to catch and retain water for a true self contained system.

Electricity and meters have been added to the property for guests and member with homes and campers to use.

Recreation

Cathouse Recreation offers the most activities and income potential that I have seen in a parcel of this size and price. The 65 acre lake with boat ramp contains largemouth bass, flathead, channel cat, walleye, crappie, bluegill, perch, carp, and white bass. The bite is fast enough for the first time angler and the big fish are here for the most experienced fisherman. Along with fishing, the lake offers swimming, waterskiing, jet skiing, kayaking, and endless boating. With a body of water this size, the recreation doesn't end in the summer. Waterfowl of all kinds frequent this lake making for incredible bird watching and waterfowl hunting. One must see the bluffs located along the water to appreciate the natural beauty.

If one wants a change from the lake, there is a golf course. This course is comprised of the native grass makes for a challenging round of golf. The holes are marked with stone posts marking the yardage and the par. If one has never golfed or is an avid golfer, this course will provide a challenge and an experience.

If trap shooting is your interest, there is a lighted trap range with concrete walk and target house.

There is still more. Cathouse Recreation has jeep, and UTV trails that can provide some incredibly challenging terrain for the most experienced rider. The natural canyons offer steep inclines, muddy bottoms, and even a log climb.

Fossil hunters and explorers come from all around to explore the canyons on Cathouse Lake. Sharks teeth, arrowheads, petrified wood, buffalo, and even dinosaur fossils are found every year in the canyons.

All of these activities are located within the boundaries of this magnificent property.

Water/Mineral Rights & Natural Resources

Minerals currently owned are to be passed to buyer.

General Operations

Cathouse Recreation is currently open to family and single memberships that allow for annual or daily use. Options to rent a lot annually for a camper or small home are available. There are currently 50 lots being rented annually and 100 memberships.