Land Auction, 11-9-2023 80 Acres
Rural : Lindy, NE 68718
Knox County, Nebraska
Expired Listing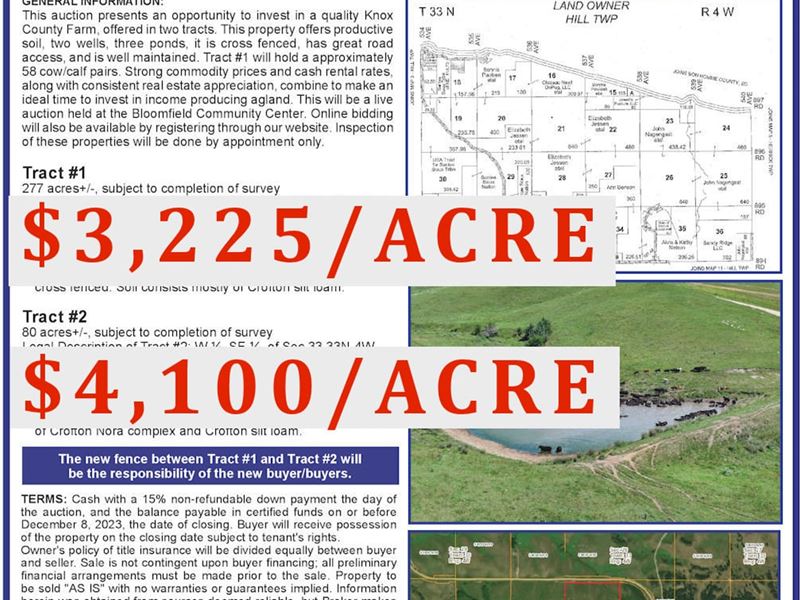 Land Description
Land Auction - Thursday, November 9, 2023 1 30Pm357 Acres+/- Offered in TWO ParcelsKnox County, Nebraska

Location of Land

From Lindy, NE Take 539 Ave. approx. 5 miles to 894 Rd. head west a 1/2 mile to the property on the north side of the road.

Location of Auction

Bloomfield Community Center - Bloomfield, Nebraska

General Information

This auction presents an opportunity to invest in a quality Knox County Farm, offered in two tracts. This property offers productive soil, two wells, three ponds, it is cross fenced, has great road access, and is well maintained. Tract 1 will hold approximately 58 cow/calf pairs. Strong commodity prices and cash rental rates, along with consistent real estate appreciation, combine to make an ideal time to invest in income producing agland. This will be a live auction held at the Bloomfield Community Center. Online bidding will also be available by registering through Inspection of these properties will be done by appointment only.

The new fence between Tract 1 and Tract 2 will be the responsibility of the new buyer/buyers.

Tract 1 277 acres+/-, subject to completion of survey

Legal Description of Tract 1 Se1/4 Se1/4 Sec 32 And Sw1/4, the E1/2 Nw1/4 of Sec 33 All 33N-4W,

2023 Tax for Tract 1 Approx. Parcel & Description of Tract 1 Very well-maintained grassland with rolling hills, three ponds, 2 wells one active, good road access and is cross fenced. Soil consists mostly of Crofton silt loam.

Tract 2 80 acres+/-, subject to completion of survey

Legal Description of Tract 2 W1/2 Se1/4 of Sec 33 33N-4W

2023 Tax for Tract 2 Approx. Parcel Description of Tract 2 Affordable tract of grassland with great potential for conversion to cropland use. This property has good road access, gentle rolling hill topography, and soils that consist of Crofton Nora complex and Crofton silt loam.