48.1 Acres Farmland Southern Saline
W Rose Hill Rd : Lindsborg, KS 67456
Saline County, Kansas
Expired Listing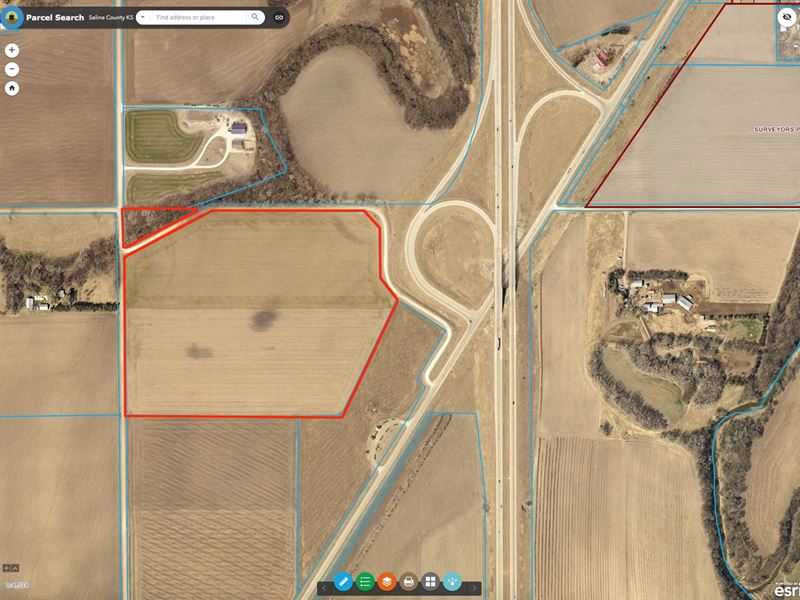 Land Description
, Brian Rose & Michael Hansen of United Country - Crossroads Auction & Realty of Salina, Kansas are offering for sale via sealed bids 48.1 Acres of Farmland in Southern Saline County, Kansas. This land is located just off Exit 78 near Interstate I-135 northeast of Lindsborg, Kansas. This land features 46.71 acres of FSA farmland, 100 of which is Class I Soils, with the balance of the land in timber and waterways. All Seller owned Mineral Rights will be conveyed to the Buyer at closing. This land is owned by Jeannine Redden and Gretchen Turvill and will sell subject to the Tenant's Rights of Mr. Tyler Ash. The tenant currently leases the land on a Cash Basis / year. Possession of the land will be after the 2020 Corn Harvest and the Buyer will receive all of the 2020 Cash Rent, to be paid half by July 30th, 2020 and the last half by December 30th, 2020. This property will sell subject to seller's confirmation. Sealed Bids due by February 13th, 2020 3 00pm Cst. Please submit all bids to Brian Rose at 611 E. Iron Ave., Ste. A in Salina, Kansas or by emailing to brian kansaslandpro

Please see the following hyperlinks to download additional property information Property Information DropBox Folder

SELLERS Jeannine Redden and Gretchen Turvill

LEGAL Address A tract of land in the North Half N/2 of the Northwest Quarter Nw/4 of Section Thirty-five 35, Township Sixteen 16 South, Range Three 3 West of the 6th P.M., Saline County, Kansas

Fsa Bases / Yields Wheat 9.10 Acre Base - 45 Bu/AC PLC Yield

Corn 9.01 Acre Base - 94 Bu/AC PLC Yield

Sunflowers 4.55 Acre Base - 1042 Bu/AC PLC Yield

Soybeans 17.94 Acre Base - 42 Bu/AC PLC Yield

TAXES 2019 Taxes were The Subject sits on the West Side of Exit 78 of Interstate I-135. From the City of Lindsborg, drive 4.5-Miles northeast on KS Highway 4. Turn West on Rose Hill Road and travel a quarter-mile and the Subject Property will be on the Southwest side of the road.

Terms And Conditions Of Sale Winning Bidder hereby agrees to enter into a Contract to Purchase the property within 48 hours of being declared the Successful Bidder by the Seller. The winning Bidder will be forwarded via email or fax a Contract to Purchase the property. A signed copy of the contract must be received by the Seller within 48 hours of the end of the bid deadline. The Seller reserves the right to amend any terms and conditions prior to or during the bidding process.

ESCROW An escrow deposit of Ten Percent 10 of the total contract purchase price must be received by Land Title Services, Inc. in Salina, Kansas within 48 hours of the end of the bid deadline. Acceptable forms of payment include cashier's check, personal or corporate check or wire transfer. The balance will be due in full at closing.

CLOSING Buyer must close sale of real property on or before Monday, March 16th, 2020, at Land Title Services, Inc. in Salina, Kansas. Time IS OF The Essence. The entire purchase price must be paid by Cashier/Certified check or wired funds at closing. Buyer is entitled to a deed for property upon full payment. Buyers should have all tests and inspections completed prior to the date of the auction. Only the Purchase Contract shall set forth Seller's obligations to the successful Bidder. Out of area Buyers will be afforded the opportunity to close via email, mail and wire transfer of certified funds. Possession of the property will be given at closing.

TAXES Seller shall pay 2019 taxes and all prior years. 2020 taxes will be pro-rated to the date of closing.

TITLE/CLOSING Costs Seller and Buyer shall share equally in the cost of Owner's title insurance and escrow closing. Preliminary Title Insurance has been prepared by Land Title Services, Inc. and will be updated with Buyer information prior to closing. Buyer is responsible for cost of lender's policy.

TITLE Evidence/Deed Seller will deliver to Buyer an insurable deed for the Property at time of closing, conveying clear and marketable title of surface rights to said Property, free of all encumbrances, liens and judgment, except for those lawful conveyances and restrictions that exist on record before the date of the auction, as noted in the title insurance commitment.

PROPERTY Sold As IS, Where IS, With All Faults Without Representation OR Warranty OF ANY Kind The real property shall be sold subject to conditions, restriction, right-of-way easements, and reservations if any, of record, filed and untitled mechanic's and material men's liens if any, and all other matters of record taking priority, subject to the rights if any, of tenants-in-possession, and further subject to all conditions announced at the safe and confirmation of the Seller. Announcements made day of auction take precedence over previously printed material and oral statements.

RESTRICTIONS Subject only to 1 all City, County, and State laws, ordinances and regulations and 2 any easements, encumbrances, and restrictions applicable to the Property. Seller is placing no restrictions on the property.

UTILITIES Seller does not guarantee the availability of utilities, public or private. This consists of, but is not limited to wells, septic tanks, access to public utilities or any hookup fees therewith. Confirmation of utility availability is the Bidder's sole responsibility.

ADDITION OR Withdrawal From Sale / Condition OF Sale All bids are subject to Seller approval. If a subsequent survey by the Buyer shows a greater or lesser number of acres or square footage this will not affect the purchase or purchase price.

LIQUIDATED Damages Buyer will forfeit all of their deposit if they cannot close within the stated time herein - and no written extension has been granted by the Seller. If such action occurs, Land Title Services, Inc. hereby has the right to disperse the deposit and the Buyer has no claims to such money or property being sold. Liquidated damages are to cover cost of the bidding process, cost incurred by Seller, labor cost, and any other additional cost. These liquidated damages do not restrict the Seller from suing the Buyer for performance damages and/or any additional damages the Seller suffers by the default of the Buyer.

ARBITRATION For disputes that are not resolved by the parties within 10 days after either party gives notice to the other of its desire to arbitrate the dispute, the dispute shall be settled by binding arbitration by the American Arbitration Association in accord with its then-prevailing rules. Judgment upon the arbitration award may be entered in any court having jurisdiction. The arbitrator shall have no power to change the provisions of this Agreement. The arbitrator shall consist of one arbitrator, who must be a real estate attorney actively engaged in the practice of law for at least the last five years.

BIDDER'S Duty TO Inspect All information published, announced, or contained herein was derived from sources believed to be correct however, it is not guaranteed by the Seller or any other person or entity. Personal onsite inspection of all property by potential Bidders is strongly recommended. All sales are subject to the conditions and terms contained herein. The failure of any Bidder to inspect, or to be fully informed as to the condition of the property, will not constitute grounds for any claim or demand for adjustment or withdrawal of bid, offer or deposit money after its opening tender. This includes but is not limited to public information such as easements, restrictions, zoning, rights-of way, or any other information that can be obtained as public record in the county courthouse or any municipal office concerning subject properties. Any and all announcements made during the bidding process take precedence over all other verbal, printed, announced, and/or distributed information. Please note that you are bidding to purchase the Property As Is, Where Is with no guarantee or warranty. Property sells subject to Seller confirmation.