Albertson's Pad Site, 2.08 Acres
935 S China Lake Blvd : Ridgecrest, CA 93555
Kern County, California
Expired Listing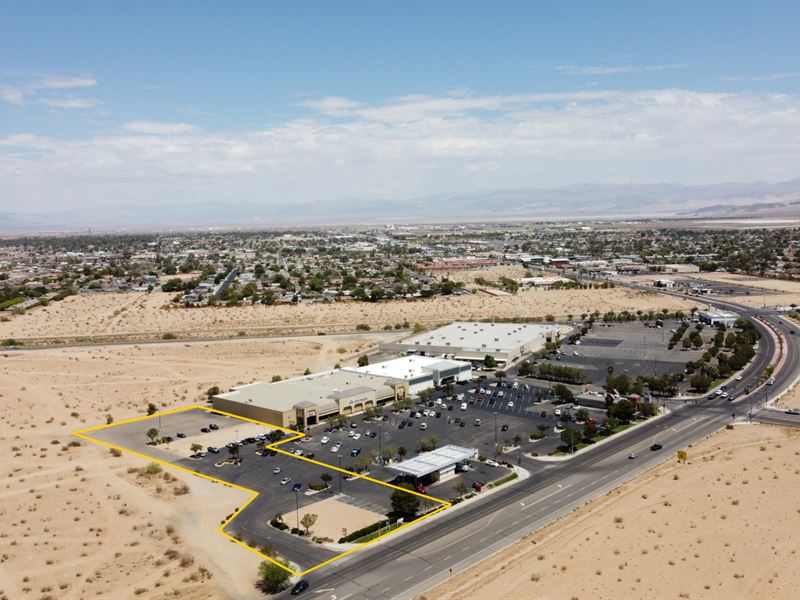 Land Description
Albertsons Shopping Center Pad Site | Walmart Supercenter Across the Street | Median Household Income of Online Auction | September 13-15, 2022

All bidders must register with Marketplace to participate in the auction, see details below.

Investment Highlights

Two pad sites adjacent to Albertsons spanning 2.08 acres

Finished parcel graded with all utilities to the property line with a paved parking area

Located in Albertson's shopping center with a Walmart Supercenter across the street

The China Lake Naval Weapons Station is currently the home of Unarmed Aerial Vehicle development

The Weapons Station is undergoing a billion upgrading and modernization program which will dramatically increase the contract awards in the future

Offering Details

NAI Capital and RI Marketplace are pleased to present the Albertsons Pad Site (the "Property"), a 2.08-Acre parcel of land spanning across two retail pad sites located in the heart of Ridgecrest, California. The Property features a general commercial zoning designation (C-2) thereby allowing for the widest range of retail commercial uses including regional shopping centers and heavy commercial uses. The pad sites are fully graded with utilities throughout the property line with a paved parking area. The city of Ridgecrest represents a limited number of grocery chain operations thereby making the Property's adjacent positioning to Albertsons a significant demand driver from a traffic exposure perspective. In addition, the Property benefits from being shadow anchored by Tractor Supply while located across the street from a Walmart Supercenter.

The economy of Ridgecrest employs ±12,300 people with a median household income of In 2019, the place with the highest median household income was census tract 54.04 with a value of followed by census tract 54.02 and census tract 55.01, with respective values of and The largest industries in Ridgecrest are Public Administration, Health Care & Social Assistance, and Retail Trade while the highest paying industries are Utilities Public Administration and Manufacturing based on information provided by the United States Census Bureau.

1. Visit our website

2. Click "Login"

3. Create Your Profile

4. Find Your Next Investment

Lamar P. Fisher

Fisher Auction Company Inc.